New Delhi: The Union Territory of Lakshadweep has reported its first-ever case of COVID-19 on 18th January 2021. The index case is a traveler who had come to Lakshadweep from Kochi in Kerala on 4th January 2021 by ship. The case had reported to the hospital with symptoms suggestive of COVID-19 and was tested positive.
Initially, 31 primary contacts of the index case have been traced and quarantined of which 14 have now been found to be positive and have been isolated. 56 contacts of positive cases detected so far have also been traced and quarantined. The UT Administration has initiated disinfection procedures and intensive risk-communication activity has been operationalized.
Ministry of Health & Family Welfare has rushed a Central multi-disciplinary team to Lakshadweep. The team comprises experts drawn from Jawaharlal Institute of Postgraduate Medical Education and Research, Puducherry; National Institute of Virology, Pune and Regional Office of Ministry of Health & Family Welfare. The team shall assist UT Administration in COVID-19 containment activities.
Ministry of Health & Family Welfare continues to monitor the situation and the UT Administration will be provided with requisite support.
A look at the COVID-19 cases status
India accomplished a significant achievement on 20th January. The total Active Caseload has fallen below the 2-lakh mark today to 1,97,201. This number translates to just 1.86%of total cases. This is the lowest after 207 days. The total active cases were 1,97,387 on 27th June 2020.
16,988 cases have recovered and discharged in the last 24 hours. This has led to a net decline of 3327 from the total active caseload.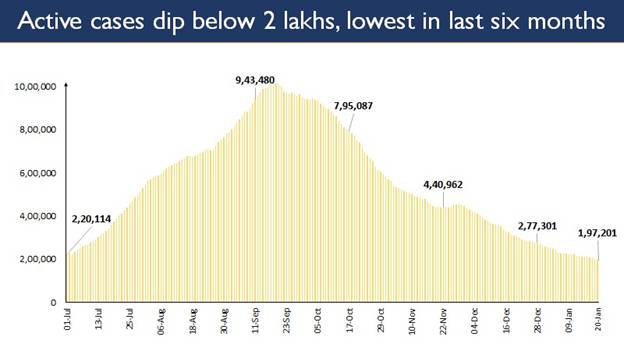 72% of these active cases are concentrated in just 5 States.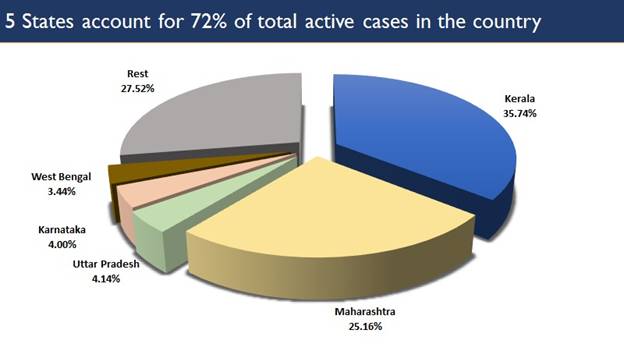 34 States and UTs have less than 10,000 active cases.
India's daily new cases are on a steady decline which has also contributed to the shrinkage in Active Caseload.

Globally, India has one of the lowest daily new confirmed COVID19 cases per million population in the last 7 days.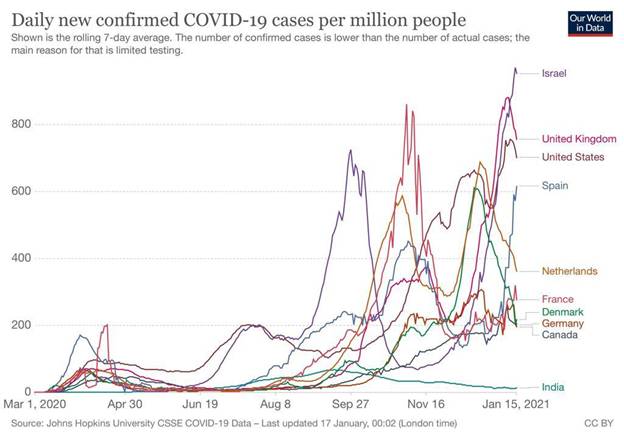 As of 20th January 2021, till 7 AM, a total of 6,74,835 beneficiaries have received the vaccination. In the last 24 hours, 2,20,786 people were vaccinated across 3,860 sessions. 11,720 sessions have been conducted so far.